LETTERS FROM LOVE — With Special Guest Kemi Nekvapil . . . plus Paradise & Vibe!
Share your love, but safeguard your heart
Dear Lovelies! 
Oh, my precious ones, pull up a chair to the table because Love has prepared a FEAST for us this week! A banquet, I tell you! An absolute banquet.
I spent last week in Tulum, Mexico, teaching a workshop at a retreat hosted by Paradise & Vibe, a Black-woman-owned travel company and community that seeks to open up the wellness and yoga world to women of color. When I tell you it was my joy and honor to be invited into such a sacred event, I mean from the very depths of my being. When I receive invitations to speak or teach, I always check in with my body before I answer, to see if I should say yes or no. (The body always knows the truth before I do. The nervous system is God's best messaging device.) When this invite from Paradise & Vibe arrived in my inbox, I experienced what I call a full-body YES, which I have come to understand means that the universe is shouting: Gilbert, GO!!! DO THIS THING!! THIS IS WHERE WE WANT YOU!
That said, I will confess that I was a bit nervous the morning my workshop began. Imagine the optics, if you will: A white, privileged woman was about to stand in front of a room filled with 60 Black women and a few Black men, and "teach" them how to be more relaxed in the world. What? Literally: WHAT?!
But my Letter from Love that morning had instructed me thusly: Darling Girl, you always are welcome at any table you have been invited to. You did not barge into this event; you were invited. There is no need for you to wonder why you were invited, darling. But you were invited. Bring the best of what you have to offer and go meet your family — they are waiting for you.
And oh, how correct Love was — as always!
So I brought the very best of what I had to offer to the beautiful souls who gathered this week to be together in Love. I brought everything I've learned over the years about how defending your sacred flame requires the incredible spiritual power of knowing your priorities, establishing your boundaries, and finding your own mysticism. And what I received in return from the women in the room was the deepest kindness, abundance of spirit, trust, and open-hearted joy. It was a true communion of the heart, and I loved every blessed moment of it. Never have I been met with such generosity.
And oh my Lord did we have FUN this week! Laughing, crying, dancing on a boat, floating in the ocean, resting on the beach, dining under the stars, doing yoga in the temple in the quiet morning light, telling the truth to one another, offering guidance and comfort and stories . . . in short, we kept ourselves busy by BEING Love.
My letter this week includes a divine visitation by Kasondra McConnell and Iana Edwards, the brilliant founders of Paradise & Vibe (and the forces behind its Instagram page). When I started this newsletter, I promised you that I would introduce you to some of the more magical people I meet in my travels, and so I invite you now to meet Kasondra and Iana — who saw a hunger in their community for safe spaces of retreat, joy, and wellness, and who answered that hunger by manifesting their fantastic dream into being. Please enjoy what Love had to tell them, in their very first experiences with this exercise.
And then we have our special guest letter this week from my incredible friend Kemi Nekvapil — a teacher, coach, writer, singer, and grower of roses — who has written what I consider to be the single most VITAL letter we have received yet in this sacred exercise. I hung on every word, because I needed every word. Please don't miss it. It's a game changer.
But first: Lizzy + Kasondra + Iana!
We send you LOVE!
Liz
Dear Love, what would you have me know today?

My love, your mind is a beautiful creation, but it is not creation. Your thoughts are marvelous starbursts, but they are not the stars. Come and sit with me in this quiet moment and remember the miracle of wordless oneness.

Little striver, could you have architected this moment, this week? Could you have gone out there in the world and figured out how to grow these palm trees? How to engineer a songbird? How to manipulate time and space and fate, so that you could be with these women who I wanted you to be with, just at the moment that I wanted you to be with them — could you have done any of that? Let me let you in on a radical secret: The more you give up on trying to manifest the world that your mind tells you you want, the more present you will be for the world as it already is. 

Perfect heart — my little perfect heart — come be in perfection with me, with us. I love you. Let's settle down together forever. But only always. Love, Love.
Kasondra McConnell
Dear Love, what would you have me know today?

Be still and know that I am God. You've heard that before, but really listen this time.

You don't have to do anything or try hard for it to work out. Where is the miracle in that? Be you. Trust yourself. Slow down and make space for the miracles. You don't control everything, even with your thoughts. It plays a part but it's not the complete picture. If you want to do it, do it. Don't overthink it. What someone else chooses doesn't have to be your choice, and you don't have to feel judged for following your own path.

Worry less about your health, and focus on slowing down and enjoying the moment. Enjoy your life. You're not a robot. And you deserve rest. Even robots have to rest. Even when you're not conscious, you're still growing. No more looking around. Focus on looking within. Your light is even brighter no matter how old you get.
Iana Edwards
Dear Love, what would you have me know today?

My sweet girl, you are exactly where you need to be, doing exactly what you need to do — always doing the right thing for you in time and in space. Please continue to ask me any questions you may have, and I will continue to answer them in the best ways I know you will hear. Love, Love.
This week's prompt
For this week, for anyone this resonates with, I'd like you to share this practice with one other person. Teach someone else how to write a Letter from Love. You are always free to share what you have learned from me here: I don't own this idea, and all I want is to see it disseminated in a love-starved world. And of course you are always welcome to invite people into this community, or to gift them a subscription. But you can also take this practice out into the world. Teach Letters from Love to your friends, your students, your children, your co-workers, your sisters and brothers. And tell us what happened when you shared this gift. As Love said to me the other day: bring the best of what you have to offer, and go meet your family — they are waiting for you.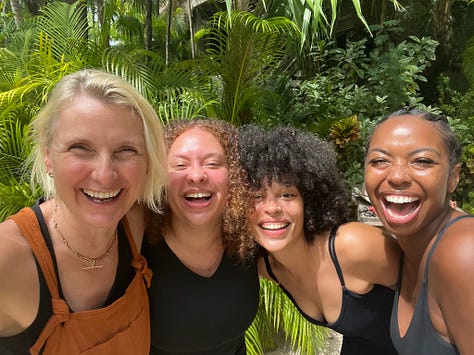 Keep reading with a 7-day free trial
Subscribe to Letters From Love with Elizabeth Gilbert to keep reading this post and get 7 days of free access to the full post archives.