Oh, my heart.
This week we have an extraordinary letter from the one and only Sara Bareilles, whose musical genius clearly springs from a deep well of feeling all the feelings and thinking all the thoughts. Sara's dual gifts of introspection and expression are so beautifully reflected in her letter. It is sincere, frank, to the point and, for me, enormously relatable.
When I watched Sara's video, it cracked open something profound in me that had been steeping for a while: gradually — and then all at once — I felt done with the bonds of my decades-long loyalty to an idea of how I should look. And I realized a truth that seems rather obvious now, in retrospect. I get to choose how I want to look! I get to be in charge of all the decisions related to how I want to feel and look in this body I've been given, and I can make those decisions this minute! A revelation.
So this week I give you two women in the public eye who are coming to terms with their outward appearances, two women who are learning to reboot their internal dialogues to try and find some peace and self-love and freedom. Let's try to let go. And let's go!
Dear Love, what would you have me know today?

Good morning, little peekaboo! What a joy it is for me to see your face, your whole face shining bright in the morning sun. I'm so glad you chopped off all your hair, my love, because I know that you're loving it and that you think it's fun and wild. And I'm excited to see what it looks like when you buzz it even shorter, in the days and weeks to come. And I hear you when you say that you think you're done with fussing with your hair, with the vanity of it, the expense of it, the time. How wonderful. How wonderful that you now wish to be free of all that. I see your freedom, I acknowledge it, and I love it.

But I need you to know something, little angel — something that I'm not sure you fully understand yet. I need you to know that I also loved you just as much when you were spending a great deal of time and money and energy every month to get your hair cut and colored and straightened and shaped into a whole different form.

I loved you just as much when you were sitting there in the salon chair with a head full of keratin chemicals, your eyes stinging from God knows what toxic stuff they even put in that — going through so many measures to make sure that your hair, when you stood up out of that chair, would be bright and blonde and shiny, even though your hair has not been naturally bright, blonde, or shiny since you were about 12 years old. But I understood, my precious. I understood.

I understood why you needed to do that for so many years. I understood the confidence that you sought. I understood the beauty that your heart had always longed for. I understood the prettiness that you needed to help you carry you through those hard days — just as I have understood and loved you every time you got botox or sculptra, or when you got your lips plumped that time. Did you think I loved you any less for your fears and vanities and insecurities? I loved you just as much then, my darling, as I love you now. And I also love, by the way, the women who you paid over those years to change your hair and to change your face. Those women are beautiful and precious, and I love them.

Now I hear you, I hear you when you say you're going into a different phase now. I hear you when you say that you're curious about letting your face age naturally from here on out. Wonderful! If that feels like freedom to you, so be it. But just you know that if you someday want to go full Hollywood and get a super tight facelift, and while you're at it if you want to shoot a bunch of fat cells from your ass into your cheeks, so that you can try to hold on to an illusion of youth in any way possible . . . I will still love you as much as I do today. I will love you if you are full of silicone, and I will love you if you allow your face to slowly slide off its bones the way that gravity and age seem to want it to do, without resistance.

Are you beginning to get the picture, my child, the real picture? Are you beginning to understand that you are doomed to be unconditionally loved by me no matter what you do or don't do, no matter how you age or don't age, no matter how you feel about it or don't feel about it, no matter how you look or don't look? And that there is simply no moral high ground to be claimed here by any one path or another — not for you, not for anyone.

Of course I want to see you happy. But I am wise enough to know that happiness is sometimes a very tall order for a human being. So know that I will love you even when you're not happy. I love the tenderness of your ego. I know and love your pride. I know and love your fear of loss and change and age. I know and love what you call your pettiness and your small-mindedness. But nothing about you is petty or small-minded to me.

Oh, my little petal. Try to imagine what it's like for me to love you as much as I do. You've got to have some reference for this kind of love, my dear — and you do. You know what it's like to love someone all the way to their mortal end, and to not need the end to be any different from the beginning. You remember how heartbreakingly beautiful you found Rayya's face on the last day of her life despite the cancer, just as beautiful as ever. You remember how you could never see her as anything but beautiful, right? So you know. You know what it's like to love that way. You have a small sense then of how much I love you.

So my love, do whatever you want to do with your body, with your face, with your hair, with this incarnation. Do whatever you need to do or not do in order to feel as secure or as free as you need to feel upon this ride of life. But please, darling, do it without shame. Do it knowing that you can never be anything more or anything less, in my eyes at least, than the very distillation of perfection.

So do whatever you want, my child, and whatever you need. Just take me with you everywhere you go because I am your ride or die all the way to the end. And there is no end. I love you.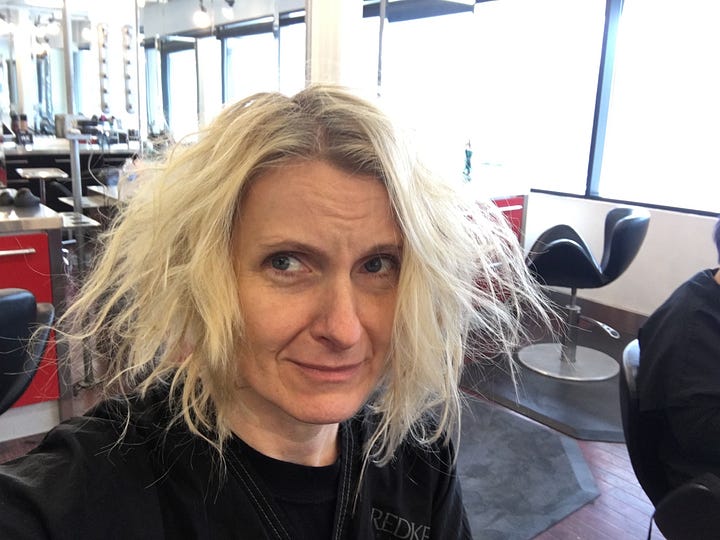 Prompt
What would happen if you wrote yourself a letter from Love that was directed to your insecurities: to your body, to your age, to your appearance, to your mind, to whatever we so innocently worry is "wrong" with us?
And if you close your eyes, quiet your mind, and take a few moments to do a future-life meditation — to picture and commune with the future version of you — what does that look like? And what do you look like?
Keep reading with a 7-day free trial
Subscribe to Letters From Love with Elizabeth Gilbert to keep reading this post and get 7 days of free access to the full post archives.