Dear Lovelies,
This week I have been thinking about something that mythologists and mystics and meditators across the ages have called "Original Mind."
Original Mind is a sort of indefinable concept, but of course I'll try to define it anyhow!
In Buddhist practice, Original Mind is said to be your mind before thought — free of all concepts, opinions, and identity. Maybe you could think of it as a clean slate, yet it is also lively in its awareness to life's miracles. Daoists would say that Original Mind is the intellect possessed by one who has transcended their ego, given up all selfishness, and now lives in perfect harmony with the flow of creation. Mythologists think of Original Mind as the "atman" — a shared universal consciousness that is outside of time and space, and which pulses beneath our individual stories and circumstances. (Literally, the mind that we all share, regardless of our separate cultures.) Christians might define it as reaching the Kingdom of Heaven.
But I am starting to think that Original Mind is what we are all listening to and downloading, whenever we receive a  letter from Unconditional Love. Original Mind is what we tap into, when we ask of Love, "What would you have me know today?" Because aren't you finding that we are all hearing the same voice? Ancient, yet familiar. Compassionate, yet playful. All-knowing and endlessly soothing. Through us, but not of us.
As I read your letters, I like to imagine that we are all tuning into the same radio station, listening to the messages of the same beautiful Original Mind.
And I love it with all my heart!
This week, my dears, we have a bunch of special guests! Not only my beloved friend Larry Smith, who will encourage us to write a love letter to ourselves in just six words, but also my new friends Justin Oswald and Miguel Ceneno — who were kind enough to let me stay at their house in Mexico City while I was there for an event last week. (And what an event it was! Pure joy!)
I wanted to bring some healthy masculine energy into our community this week, to balance out all the amazing feminine energy and love that is happening here! And you could not find better, gentler, or more loving men than Larry, Justin, and Miguel. So please, take in the wisdom and grace and humor that Original Mind has to share with us, through the voices of these terrific guys.
By the way, I also encouraged Miguel to read and write his letter in Spanish. I have heard a few of you say in your letters that English is not your mother tongue, and that sometimes it's difficult to translate your letters from your original language into English. PLEASE take Miguel's example, and feel free to write and share your letters on this page in whatever language Love chooses to speak to you in. We are a global village, and Original Mind speaks to us in a multitude of languages. I want you to feel as comfortable here as you can! And if you would like, you can also follow Miguel's example, and write a letter that is TO Love, rather than FROM Love. Please always feel free to play with the form! This is your community, my Lovelies. I want you all to feel free.
Onward!
Liz
Dear Love, what would you have me know today?

My love, you ask me how you can help — how you can be of service to your family, to your community, to the world, to all who are hurting. I want you to know that THIS is how. I don't just mean sharing these letters and this practice with the world. I mean the thing that is under it — the place where my voice comes from. I mean: Silence.

That is how you can help. You can help by being in silence more.

You remember the monk in India who taught you years ago that "silence is the only true religion." How that resonated with you. And you remember being taught that meditation is the most, if not the only, unselfish act that you can do.

I know it doesn't make sense to you. You've been taught so much about action. But think on that, my love. Think upon it. Think upon how generous it is to sit in silence, to quiet your mind so that you can hear my mind — the Original Mind.

Today in the temazcal ceremony, you heard me say to you: "If you want to help, stop more often. Stop doing. Sit quietly more. Do less. Be still.

My love, the world and its billions of small minds are spinning in fear and anger — somebody has to stop. Somebody has to stop being so frightened. Somebody has to stop being so angry. Somebody has to stop being so controlling. Somebody has to sit quietly enough to hear my voice.

Let it be you.

Or at least become one of those who has the patience and faith to hear me.

Service is not always an action, my love. Sometimes it's a waiting. Sometimes it's a listening. Sometimes it's a surrender. Remember that time you saw Thich Nhat Hanh speak in New York City and he barely spoke. He just sat, hands folded quietly in his lap, and you watched as his quietness moved through the audience of restless New Yorkers, one row of audience members at a time, until each was settled . . . and then you all sat quietly with your hands in your laps. Don't you think it would be nice for the world if more people sat quietly with their hands in their laps?

This is how to help, my love. Believe me, nothing is more adjacent to God than the stillness in which my voice can be heard. Keep going, by which I mean: keep stopping.

You are on the right path when you step off the path.

I love you. Come back home again and again to me. We're doing this now.
Justin
Dear Justin,

I am coming to visit. Ha! Just kidding. I am already here.

Thank you for making it so comfortable. The flowers are beautiful. It's so nice to see Honey, your father, Zan, and all the others out for a little love; and let me tell you they love you and they know you love them.

Well, anyway, I'm already everywhere and I can't wait to see what is in store for our time together. Can we bike to Lucia's house? Damn, that hill is fun.

PS I'm staying for a while and I love soup.

Love, Love
Miguel
Yo sé que ya entendimos, pero yo en mi calidad de otro tú, dime, a quién recurrir sino a ti si ya descarté a todas las personas para pedirte lo que necesito.

Ayúdame en este momento de elección: a disminuir lo que exijo sólo por el derecho de haber nacido, a recordar siempre las enseñanzas de mis maestros, a trabajar la tierra.

Ya sé que la primera vez te lo pedí con violencia y que cuando uno se acerca iracundo te vuelves piedra y cinzel.

Quiero que sepas yo he hecho mi trabajo y en cada transformación he intentado avivar el fuego (de nuestra tregua:  tú vasija y yo luz). Aunque esto, bajo ningún motivo, es una rendición de cuentas — porque tu inmensidad y regalos me resultan incomprensibles.

Y yo sé que uno no debe abusar en los intentos por saber pero es que me muero. ¡Por saber!

Ojalá que haya algo: un secreto del universo un rayito de luz el primer gesto entendido donde las cosas pueden ser reales cuando tienen todo el color y se visten de sus significados. Por ejemplo: una conversación con mi amante, el olor a café de mi madre, el sudor que precipita en mis zonas naturales, la fortuna de la amistad, sin pretender a nada grandioso, y al mismo tiempo apuntar a tocar todo.

Ojalá abra los ojos a un momento divino.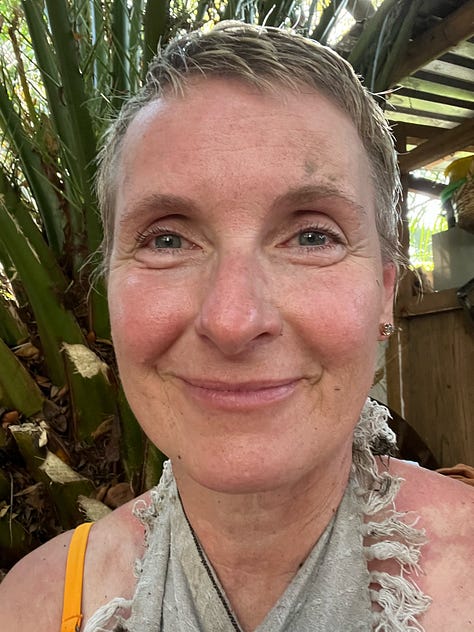 A big shout-out to the aptly named Charms above, by the way. She describes herself in her Instagram bio as an "author, speaker, and your #1 cheerleader," and a more enthusiastic, big-hearted cheerleader you'll never meet — she is pure magic, like Mexico City itself!
This week's prompt
This week, start listening for the voice of "Original Mind" speaking to you and through you, even when you are not actively writing a letter from Love. Can you hear that wisdom at seemingly random times throughout the day? What is it telling you, off the page?
Keep reading with a 7-day free trial
Subscribe to Letters From Love with Elizabeth Gilbert to keep reading this post and get 7 days of free access to the full post archives.